In 2017, Schmidt Ocean Institute celebrated five years since R/V Falkor was launched on her mission to transform marine science with innovative technologies and approaches, and the open sharing of knowledge.
Today, Schmidt Ocean Institute is known as the world's first fully privately-funded research vessel operator dedicated to advancing the frontiers of ocean science and conservation. Our work has helped to inspire and disrupt the status quo in ocean research by encouraging other independent thinkers to apply diverse, practical innovation to understanding and protecting our oceans.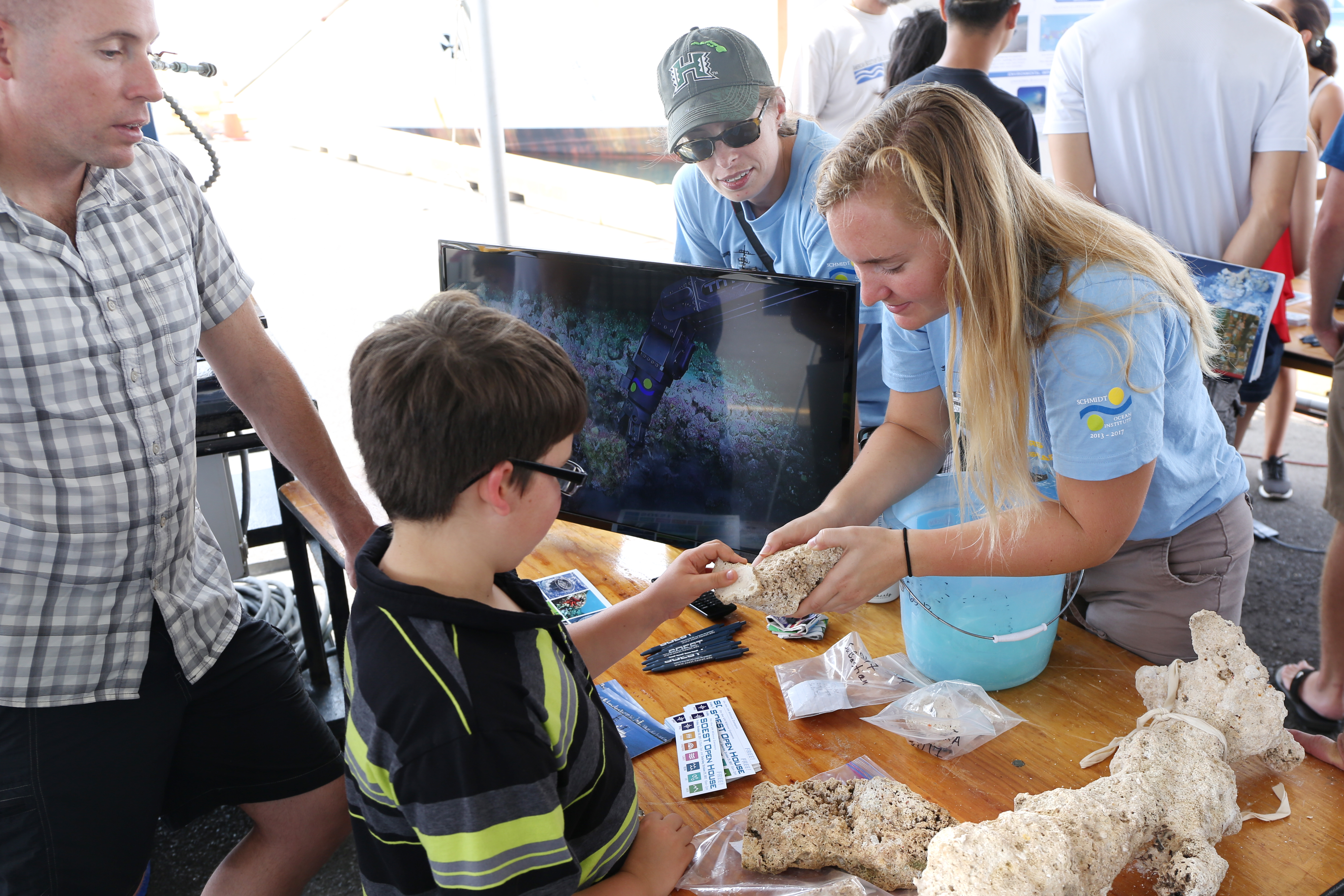 By mandating open sharing of data for all supported projects and by providing end-to-end data acquisition, management, processing, and sharing services to all collaborating researchers, Schmidt Ocean Institute has broken academic glass walls and removed barriers to cooperation among the scientists, research labs, and institutions around the world. Our open data policy has changed the attitudes to data sharing by shifting academic values in favor of openness, collaboration, and equal opportunity. Open source software developed by Schmidt Ocean Institute for scientific data logging, in-cloud processing, and image annotation is being adopted by dozens of academic, government and philanthropic organizations around the world.
All Schmidt Ocean Institute programs are conceived and developed to create appreciation and understanding of ocean systems among people who are not marine scientists. When you consider that most of the processes that determine the function of the biosphere and the fate of our civilization are linked with the ocean, you realize that we have life-saving messages to deliver. By characterizing intricate marine ecosystems and sensitive habitats, as we did, for example, by mapping a third of the vast Papahānaumokuākea Marine National Monument ahead of its expansion, we provide critical data needed to improve conservation policy, resource management, and global awareness, leading to stronger protection of our life-giving oceans.
By way of an unprecedented mass-extinction, the oceans are heading towards a new global equilibrium, which could as well be incompatible with humankind. The grand challenge of protecting the declining marine life, the global climate regulator, looms large.  It is aggravated by the chasm between the ocean's enormous size and complexity and our limited capacity to characterize it at relevant scales in space and time. As never before, oceans depend on us for swift action to develop orders of magnitude more scalable, yet robust, environmental assessment techniques and sophisticated, yet easy to use, data analysis tools to enable intelligent, affordable, and effective marine ecosystem care and restoration around the globe.  
To our advantage, exponential advancements in data technologies, mobile and cloud computing, deep learning, and low cost, intelligent, environmentally-friendly robotics offer a rich set of tools to devise effective ecosystem management practices, inform globally extensible conservation strategies, and raise public awareness and engagement. In the end, it doesn't matter where you live or what you do.  Everyone, everywhere should care about the oceans, our shared planetary life support system.